Recently two names synonymous with Underwood athletics — husband and wife duo, Chuck and Diane Ross — announced they were stepping down from their positions as head coaches for the Rockets' football and volleyball programs.
Unlike Chuck who plans to continue working at the school as well as coaching boys' golf, Diane also announced she's leaving teaching.
"Coaching was taking a lot of time and energy from my family, I have four grandchildren now and I thought it was time to turn it over to somebody new," Diane said. "I'm definitely going to miss that first day of practice, seeing everyone in that gym, they're all excited, anxious to get started and I'm going to miss the games … it's just being part of a family that I'm probably going to miss the most."
Replacing Diane as head coach will be her 15-year assistant Breck Grove.
"She is highly qualified, we had a great assistant coaching staff in place and I have full confidence that they will continue to build the program and make it something that Underwood is proud of," Diane said about the program's future.
Diane, who was inducted into the Minnesota State Coaches Association Hall of Fame in 2018, leaves the sport with an overall coaching record of 706-302. She began coaching the Rockets in 1997 amassing a 497-200 record including 12 Little Eight Conference titles, 10  subsection championships and seven section titles.
"I just have a lot of pride when I think about the Underwood community and of course all of the people that helped support the Underwood volleyball program throughout the years," Diane said. "The community has been great, thinking that they've only had two volleyball coaches in the program's entirety, Margo Shebeck and myself, I think that says a lot about our community, our administration and our school board. It was just a real pleasure to work for that type of environment."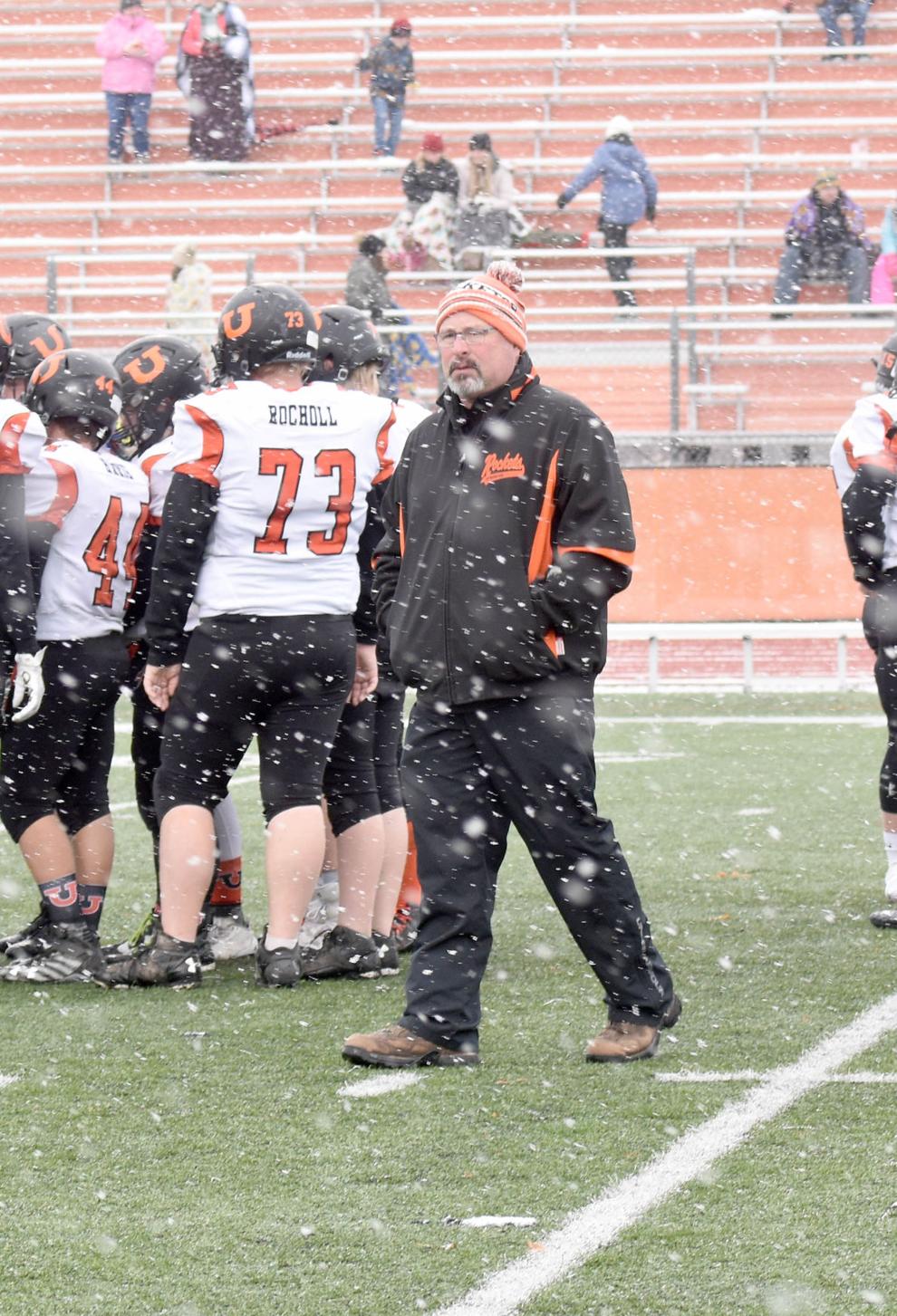 Underwood football made school history this season as the Rockets' first 11-man team and proceeded to set the bar high by going 10-2 while qualifying for the state tournament. With Chuck's announcement to step down as head coach many Rockets sports fans are asking themselves "why now?"
"After 33 years of doing this every fall it was just time to do something different," Chuck said about his decision to stop coaching football, adding he's going to miss the family atmosphere received from his coaching staff and players. "I always said that I would coach until practices didn't become fun anymore and practices became more like work than fun, and that was a big reason for the change."
Filling the void left by Chuck's departure will be long-time assistant Ryan Hendrickson who has experience head coaching Otter Tail Central's baseball team.
"Ryan's been on our staff for quite a few years now and he's been eager to learn things and he's  been the offensive coordinator for the last two years. I wouldn't have stepped down if I didn't think he was ready," Chuck said.
Chuck began as head coach for the Rockets in 1998 and compiled a 142-94 record including three conference championships, two subdistrict championships and seven section titles leading to state playoff games.
"I was truly blessed to be the Underwood head football coach for 22 years. The town of Underwood and the parents have always been very supportive and I will always appreciate that," Chuck said. "I want to make sure to thank all of the players who played for me and the time and dedication they put in to make Rocket football successful, thank you."